Written by Felicia Feaster and published on https://www.diynetwork.com/.
When it comes to trees, a decision made in haste can lead to years of regret. Many trees grow more beautiful generation after generation. Others have the potential to create decades of trouble, dropping messy fruit or bothersome sticks. So take your time when selecting a tree to plant and choose one that offers the best combination of qualities you will enjoy. Begin your selection process by asking: Why do I want a tree? For shade? Privacy? Something to look pretty? Or to block the view of the neighbor's less-than-lovely backyard? This will help you begin to narrow down the choices. Use these tips for finding just the right tree for you.
Plant the Perfect Tree for Arbor Day
ou might call R.J. Laverne a tree hugger. As the manager of education and training at the Davey Institute of Tree Sciences, I thought Laverne would be the perfect guy for suggesting the right tree to serve different needs in your yard. Using myself as the perfect example, I know that I have often planted the wrong tree in the wrong place and endured the results: slow-to-no growth or a yard-swallowing monster. Learn from my mistakes.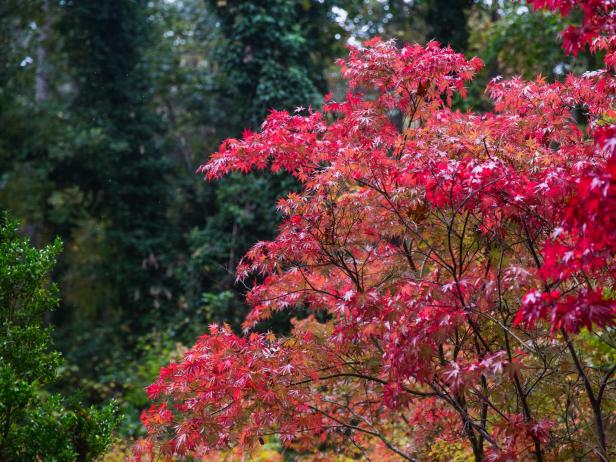 And why not get the family involved in this fun way to celebrate Arbor Day, by planting a new tree in your yard? From my experience, children love the experience of watching a tree grow as they do. It's a great way to measure time's passage, bring beauty to your yard and in some cases, offer up delicious things to eat, like the apple tree we planted in my Atlanta front yard when my son was little. A co-worker planted trees in her front yard to mark the birth of each of her sons, and I know they — and she — loved to see them grow and know these were their "special" trees.
Depending upon what you are looking for in a tree, Laverne has some great recommendations for amazing trees. But first, follow his helpful general tips to keep in mind when thinking about introducing a tree to your yard:
1. Discover the plant hardiness zone where you live. North America has many different climates ranging from hot and dry to cold and wet. Your perfect tree is one that will thrive in the climate conditions or "Plant Hardiness Zones" where you live.
2. Discover what your objectives are for planting a new tree. Trees provide an incredible range of benefits to humans and wildlife, ranging from cleansing the air to producing food to providing shade. Think about what you would like your new tree to provide you and the generations of people that follow you.
3. Discover the amount of space that you have to offer a tree. The most common mistake in selecting a tree is to choose a species that will outgrow the space. Understand the full mature dimensions the tree is expected to attain. Equally important, consider the amount of space for roots. Unless you choose a small ornamental tree species not expected to exceed 20 feet in height, do not plant near utility lines.
4. Discover the properties of your soil. Trees have different preferences for the soil their roots inhabit. The good news is that you don't have to be a scientist. Simply dig a shallow hole, fill up a gallon-size zip lock with soil and take it to your local extension office. They will provide information about your soil.
5. Discover what trees are under attack. Unfortunately, some trees have come under attack from diseases and insect pests. Do not select a species known to be afflicted with significant disease or pests. And, increase the diversity of any species you plant.
Now for Laverne's ideas for specific trees to serve different needs:
A Tree for Shade:
I love Blackhaw Viburnum because of its small, interesting habit and ability to thrive in the shade. It is a hardy tree that produces clusters of small, cream colored flowers during spring and fruit in the fall. Bonus: Fruits are edible for both wildlife and humans. Grows about 15 feet tall and wide. (Zones 3 to 9)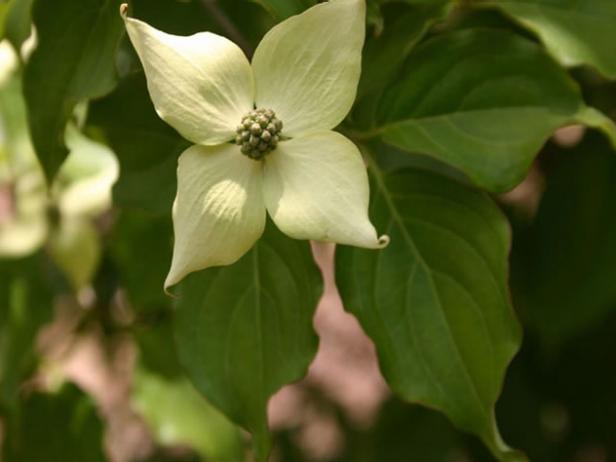 A Tree for Spring Color:
Kousa Dogwood offers a terrific spring show blooming with delicate pink or white flowers. Yet this species keeps performing once spring ends. It bears fruit in late summer and reddish-purple autumn foliage. Plus, it is a disease-resistant alternative to its popular cousin, the flowering dogwood. Grows 10 to 25 feet tall and wide, depending on variety. (Zones 5 to 8)
Redbud is valued for its spring display of pink or white flowers. Redbud is a small, easy-to-grow tree with delightful heart-shape leaves that turn golden-yellow in the fall. It thrives in sun or partial shade and is a moderate to rapid-grower. Grow 30 feet tall and wide. (Zones 5 to 9)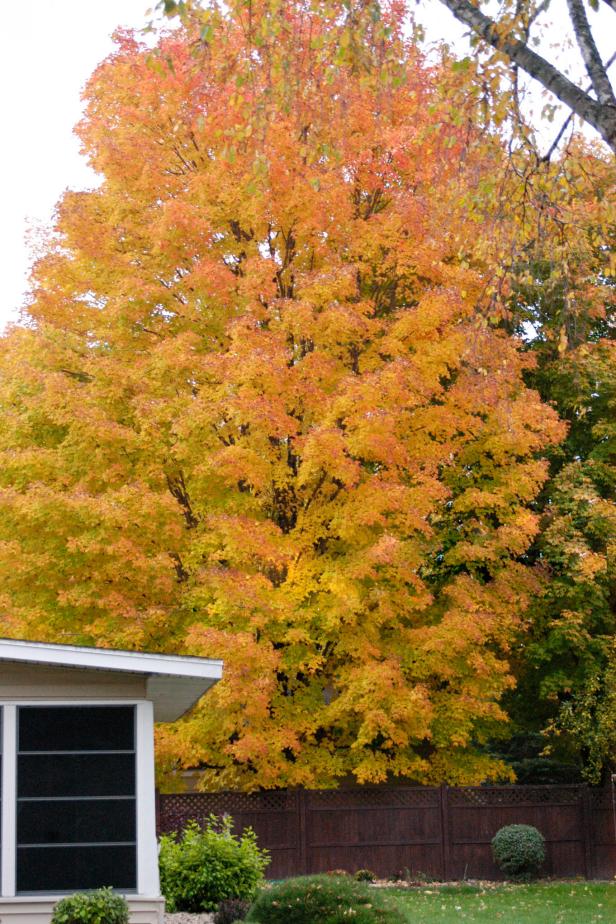 A Tree for Fall Color:
Style, grace and dignity — the sugar maple has it all. The iconic leaves of the sugar maple top our list for the best fall foliage. Though this tree is loved for its maple-sugar sap, it also produces a brilliant look at the end of the season. Featuring 5-inch leaves with 3-5 toothed lobes, the sugar maple's autumn foliage morphs from gold, yellow and fiery orange to an unmatched deep red. Sugar maples are an exceptional tree whether planted in your backyard or growing in the wild. Native to the eastern and mid-western U.S. (Zones 2 to 10)
The red maple adds just the right amount of red to the landscape each season —tiny winter buds, beautiful spring flowers, leaf stalks in summer, and intense autumn foliage. But don't let its name fool you. Red maples have fall colors that vary from bright yellow to burgundy. These on-going colors, combined with the red maple's relatively fast growth and tolerance of soils, makes it a North American favorite. These trees grow in oval, rounded or upright shapes. Distinguish the leaves of a red maple from other maple trees by looking for leaves that are slightly smaller than other species with distinct saw-like serrated edges. (Zones 3 -9)
A Tree for Wow-Your-Neighbors Beauty:
Both elegant and versatile, Japanese maple trees are true chameleons. There are many cultivars of Japanese maple that have splendid color from spring through fall, and really interesting branching characteristics. Some go from intense red in spring, green in summer and welcome fall with yellow and orange. Others start red and stay red throughout the fall. Leaves can be palm-shaped or lacy with five to seven lobes. (Zones 6-8)
The Best Giving Tree:
Apple trees are a favorite for producing fruit, but they require a lot of knowledge and work to prune them and treat them for several troublesome diseases to keep them healthy. In my opinion the best giving tree is the type that lives the longest and provides the most generations of humans with its benefits. The secret to planting a tree that has the best chance of living a long and productive life is to carefully consider the characteristics of the site and select the tree species best suited for those conditions. If you select wisely, many generations of your descendants will thank you for planting such a generous tree.
Original post https://www.diynetwork.com/made-and-remade/learn-it/plant-the-perfect-tree-for-arbor-day.